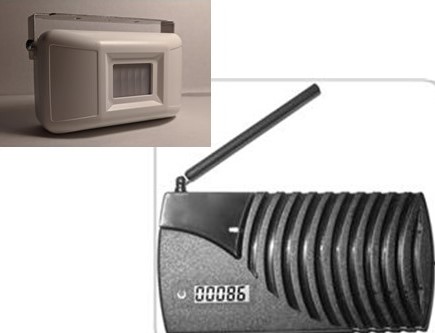 The TotalCounterOH is not a video counter - but is included here because it does install above the entrance. Some of our customers are okay with the lower accuracy of the TCOH because it is installed out of the way of children, sends its counts to a remote display, and is relatively low cost. If two or more people enter/exit at once, they will be counted as one. So on a single wide door - the typical accuracy is 92 to 95%. But as the entrance gets wider - the accuracy can drop to 80 to 85% or lower. But the unit is easy to install - easy to use - and low cost. The TotalCounterOH is priced at $299 plus shipping.
This is a single-lens video counter with onboard report software. Typical accuracy is 95% even with groups. Run a standard Ethernet cable from the display to a nearby PoE network port and use Internet Explorer 10 Web Browser software to view hourly, daily, monthly and yearly IN and OUT counts at your PC. The included software will let you view basic reports and export the counts to Microsoft Excel. Typically used on single door, and double door entrances. The TotalCounterVideo counting solution is priced at $499 plus shipping.

IP Connected Overhead Video Solution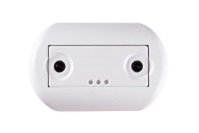 This dual-video counting sensor is one of the most accurate sensors in the industry at 97%+ even with crowds. Plus you enjoy the automation and flexibility of a very sophisticated reporting solution. An excellent choice for single doors, double wide entrances, very wide entrances, multiple entrances in one building and multiple locations. Pricing starts at $999 plus shipping for the sensor plus a year fee for the cloud based software and reporting subscription.
| Features/Benefits | Total CounterOH | TotalCount Video | IP Connected Dual Video |
| --- | --- | --- | --- |
| Here is a quick comparison of products installed above the entrance. | | | |
| | Battery Operated Sensor with AC Powered Display | | |
| | | Hourly, Daily, Weekly, Monthly, Yearly Counts | Hourly, Daily, Weekly, Monthly, Yearly Counts |
| | | On-board Reports via Internet Explorer 10 Web Browser | Very Sophisticated Cloud Based Reports |
| | | | |
| | | | |
| | | | |
| | | | |
| Separate IN and OUT Counts | | | |
| | | | |
Click Here for the AccuraCounter
Click Here for Battery-Operated Counters
Visit the We Count People Website
Contact We Count People Today!